BUILT-UP:
Built-Up Roofing is one of the oldest and most reliable ways of installing a new roof. It was first known as composition roofing and started in the 1840's. Over the years, Built Up Roofing has earned a great reputation with commercial building owners, industrial roof managers, architects, and engineers.
Each ply of a built up hot tar, tar and gravel and tar and cap sheet roof system contains a mat of glass fiber reinforcement. When multiple plies are combined and sandwiched between layers of water resistant asphalt, the result is a dependable roof.
Built Up roofs, a continuous, semi-flexible multi-ply roof membrane, consisting of plies or layers of saturated felts, coated felts, fabrics, or mats between which alternate layers of bitumen are applied. Generally, built-up roof membranes are surfaced with mineral aggregate and bitumen, a liquid-applied coating, or a granule-surfaced cap sheet. The choice to cover with rock or coat with a variety of cool roof product is also available.
Built-up roofing ("B.U.R.") has long been considered the traditional roofing material in the United States. The multi-ply configuration provides additional layers of protection against moisture penetration along with somewhat of a self-sealing property during warm weather. In a B.U.R., the felts act as reinforcement for the thin layers of waterproofing bitumen (asphalt or coal tar pitch). The system is typically surfaced with aggregate set in a flood coat of bitumen for purposes of ultra violet ray, severe weather, and impact protection.
B.U.R. systems are durable, long lasting, and relatively resistant to construction and post construction traffic. They are appropriate for both new and replacement roofing.
MODIFIED BITUMEN:


Modified Bitumen comes in granulated colors and smooth surface, which can be coated with an elastomeric roof coating or left plain black. This is the most commonly used material for properly drained flat roofs. It is heat welded and creates a one piece water-tight roof.
Modified Bitumen (MB) roofing is an asphalt-based, close cousin of the Built-up-Roof (BUR) designed for buildings with low-slope or "flat" roof structures. Engineered modified bitumen roofing membranes originated in Europe in the mid 1960's and have been used successfully in the United States and Canada since approximately 1975.

Increased resistance to brittleness at cold temperatures, greater flow resistance at high temperatures, and increased elasticity can be achieved by blending synthetic rubberized polymers with asphalt in lieu of modification by the blowing process used for BUR asphalt. There are numerous surfacing options for this system which include a factory applied mineral surface, gravel surface, including "cool roof" coatings which are highly-reflective to save on building cooling costs. Mineral-surfaced MB products are typically furnished with white granules, but are also available in designer colors to match asphalt shingles or to otherwise compliment the building design.

MB gives designers and installers an even broader array of options than BUR. MB may be installed by the torch-application method, or "hot-mopped" like BUR, or applied with "cold-process" adhesives. The latest innovation with MB is the self-adhering sheet. Using special combinations of polymers to modify the underside of the MB sheet, the rolls are manufactured with a release paper. The installer removes the release paper and as the sheet is rolled out, it adheres itself to the substrate. This method eliminates the risks associated with the use of torches, hot asphalt, and is completely free of VOC (volatile organic chemicals) fumes during and after application.
GREEN ROOF: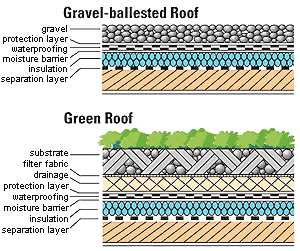 Green roof refers to a system of roofing that uses plant life for roof covering instead of traditional covering materials. The system of green roofing dates back to the 1960's but only in recent years it has became a popular alternative to the traditional roofing due to its environmental benefits and savings for heating and cooling. The plants that cover the roof provide an excellent insulation to the building but they also act as a natural filter for rainwater which means that they significantly reduce the amount of rain drainage. The plants absorb over 50% of rainwater which would otherwise run into sewage system. The water that is absorbed by the plants on the rooftop then evaporates back into the air. But the benefits of green roof technology do not end in reduction of rainwater.
Green roofing has become increasingly popular in cities because it creates additional green spaces that bring some nature in the concrete and steel jungle. Green roofs in larger buildings often mimic parks and include rich vegetation that does not only provide an additional green space but also attracts wildlife including butterflies, honeybees and other insects as well as birds that can be otherwise rarely seen in urban areas. In addition, green roofs are visually appealing and create an attractive contrast to concrete and steel, while many people take advantage of possibility to grow their own fruits and vegetables as well as flowers on rooftops.

Green roofs are always created in several layers which besides plants include a growing medium, filter cloth, drainage, insulation as well as waterproof membrane. The construction of a green rooftop as well as selection of plants for roof covering depends on several factors including the size of the building and the type of the roof. Both flat and slopped roofs are appropriate for green roofing but creation of park-like roof systems remains limited to larger buildings.
TENANT IMPROVEMENTS:
Changes made to the interior of a commercial or industrial property by its owner to accommodate the needs of a tenant such as roof, floor, and wall coverings, ceilings, partitions, air conditioning, fire protection and security. Who bears what portion of TI costs is negotiated between the lessor and the lessee, and is usually documented in the lease agreement.
ROOF COATINGS: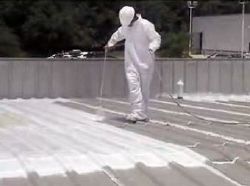 Elastomeric Roof Coatings are a thick, high solids high-grade elastomeric coating. Elastomeric roof coating has elastic properties, and these. Elastomeric Roof Coatings are a thick, high solids high-grade elastomeric coating. Elastomeric roof coating has elastic properties, and these elastomeric coatings are high temperature resistance. Elastomeric roof coatings can stretch in the summer time heat and then return to their original shape without damage. Elastomeric roof coatings usually contain polymeric materials, which make them opaque and reflective. Elastomeric roof coatings are applied thicker than paint. These elastomeric roof coatings are used for roof leaks repair. An elastomeric roof coating seal roof leaks, saves and extends the life of old roofs. Elastomeric roof coatings are an excellent choice for roof leaks repair.

All elastomeric roof coatings are not created equal. Companies of elastomeric roof coatings try to distinguish themselves from their competitors through various techniques, most notably from the Product Data Sheet.

Elastomeric roof coatings are white with reflectivity of 90-98% to drastically reduce the roof temperature from as much as 12 degree F. It has remarkable adhesion to almost any surface including rolled roofing. This liquid elastic coating and sealant flows easily into cracks and crevices and dries to completely seal roof leaks. Maximum-Stretch, along with Super Elasto-Barrier and roof fabric can be formed into a roof system to form a new roof over the old roof and substantially extend the life of the roof by many years. Maximum-Stretch roof coating resists cracking and drastically reduces the expansion and contraction that tears roofs apart. It has been developed for cold and wet weather and formulated to resist fungus, mold and mildew.